Check out our calendar of events below!
Champions Special Ministries - Summer Day Camp
Monday, June 12, 2017 - Friday, June 16, 2017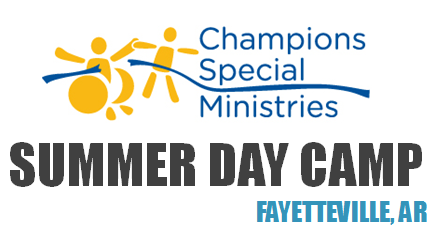 Description:
Champions Special Ministries is a nonprofit based in Overland Park, KS. They hold and direct Day Camps for kids and young adults with disabilities across the nation. The focus of their Day Camps is to provide an action-packed, fun-filled week for individuals with Special Needs. They are holding their second five day Champions Day Camp in Fayetteville this summer and hope that you will join them for the FUN!

June 12-16 @ Mt. Sequoyah Retreat & Conference Center
150 N. Skyline Drive, Fayetteville, AR 72701
9:00 a.m. - 4:00 p.m, Monday-Thursday and 12:30-8:00 p.m. Friday

Champions Day Camps are for children and young adults, ages 6 and up with an intellectual, cognitive, or physical disability. With a fantastic staff and assembly of local volunteers, we will have a 1-2 or 1-1 ratio volunteer to camper during our week of camp. Our high energy (high FUN) Day Camp activities include games, activities, sports, dance, music, arts and crafts. We will end our week with the families' of campers invited to a cook-out, closing program, and square dance!

Two links below which will give you a "view" of Champions!

We are excited to host our second Day Camp in Fayetteville with some of our most favorite people in the world!