Check out our calendar of events below!
Monday, October 30, 2017 5:00 pm - 8:00 pm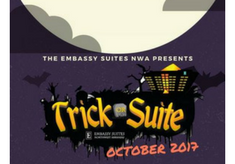 Location:
Embassy Suites by Hilton Northwest Arkansas - Hotel, Spa & Convention Center 3303 Pinnacle Hills Pkwy Rogers, AR 72758
Description:
About 700 kids with special needs enjoy trick or treating at the Embassy Suites in Rogers for Halloween each year with generous corporate and non-profit sponsors paying for the opportunity to give them candy. Now that's community.

The kids have a fun, safe environment to trick or treat in. The parents have peace of mind regarding weather, traffic safety, and conditions that may affect their children's comfort.

"We meet any and all special needs, whether physical or mental," explains Emily Rector, event services manager at Embassy Suites. "All suites follow particular guidelines to ensure that we are creating a safe environment for the children. We do not allow for any strobe lighting or overly scary displays. We also provide quiet rooms on every floor so that if a child becomes overwhelmed by the crowds or excitement their parents or guardians have a safe space to take them to."

The kids are treated to a large space for candy, games, giveaways, and interaction with fun characters. The event is held in the Spa Atrium, which encompasses the ground floor as well as the 3rd, 4th and 5th floors of the Spa Tower. The event this year will use 31 suites.