Jude's "Team Tortoise"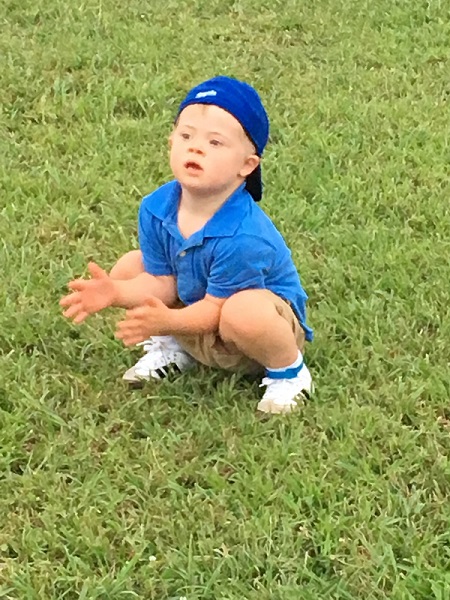 Jude's "Team Tortoise"                             
Ever hear the story about the Tortoise and the Hare?  In that story, the two animals raced and, despite the common perception that the Hare would win, the Tortoise used hard work, patience, perseverance, and a positive attitude to come out on top.  The traits of the Tortoise are the same that allow me, and others with special needs, to develop to our full potential and to become active, productive members in our communities.  The traits of the Tortoise are also those that also allow our family and friends, as our caretakers, to provide us with the support that we need along our respective journeys.
My name is Jude and this will be my fourth Inclusion Walk (formerly Buddy Walk).  The event comes just a few weeks before my birthday every year and serves as an additional milestone of my progress.  Heading into my 4rd birthday, I have made a lot of improvements in communicating verbally and non-verbally, in scaling pretty much anything that can be climbed and attempting to slide down or leap off, and in outsprinting pretty much anyone when there is an open body of water to be jumped in. 
My Team Tortoise has done an exceptional job at fundraising each year, so I am maintaining my ambitious goal of $5,000 for this year and hope that I can get an even larger group of family and friends to join me at this year's event.
The Inclusion Walk is the main fundraiser for the Down Syndrome Connection of Northwest Arkansas and nearly all of the money raised stays in NW Arkansas with very, very little going to operating costs for the organization.  DSCNWA is the local group that provides information and resource packets for education and awareness regarding Down syndrome.  The group also hosts social mixers and activities for people with Down syndrome and their families for fun and support and provides connections to financial and medical resources for assistance.  All of these resources have been vital to me and my parents in my first four years and we hope to help others by ensuring that they remain available to all who need them.
There are a number of ways that you can be a part of "Team Tortoise" and provide support:
Walk with me in the Inclusion Walk and/or run in the Respect Run 5K on Saturday, October 22nd at Arvest Ballpark in Springdale, AR
Make an online donation here to my team to support the Inclusion Walk and the DSCNWA
Tell others about the Inclusion Walk and the great work of the DSCNWA
The Inclusion Walk is Saturday, October 22nd at Arvest Ballpark in Springdale, Arkansas.  Though I am asking for donations, this event is free to the public.  Come out and join us for the Inclusion Walk, some music, some food, and a bunch of other fun stuff!
Thank you for your support of me and the DSCNWA!
Jude
CLICK HERE to register for the Inclusion Walk on October 22nd and to join Jude's Team Tortoise.  Even though registration is FREE, please register online and then visit our registration table on event day. Thank you!
Our Team Goal & Progress
We have raised $0.00 of our goal.