Brooks' Battalion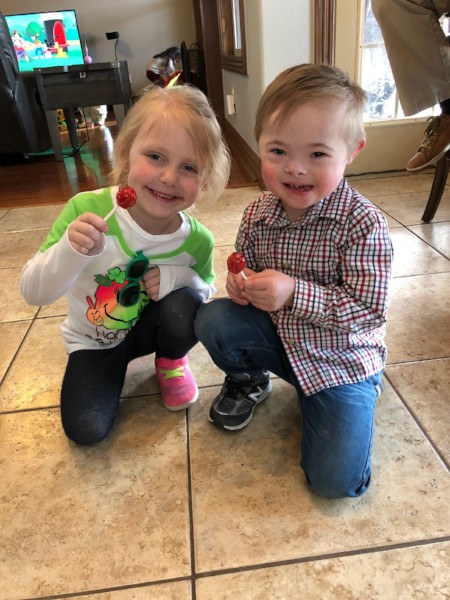 Hi, my name is Brooks and I am a very fun loving 4.5 year old!  I happen to have Down syndrome, but that is not the most important thing about me. I love to be in the center of whatever is going on.  My favorite place to hang out these days is the pantry. Food is my love language.  I also love to play outside with friends and neighbors (they are much cooler than my baby sister).  I also love to swing, go down slides, and dance to whatever music is on. My absolute favorite thing to do is read books and mom says it's helping me develop my language skills. I give the best of hugs that make anyone melt. I attend school at Helen Walton Children's Enrichment Center in Bentonville and I have many friends that love me & help me learn & grow every day. I am special, but not because I have Down syndrome. I am special because I am Brooks, & because with my smile & laughter, I make the world a whole lot brighter.
My story begins when I came a few weeks early & had to have many doctors & nurses fighting for me because I wasn't able to fight for myself. Five full minutes after birth I finally took my first breath. After that first breath I started fighting alongside the Mercy NICU nurses, doctors, therapists, and of course my parents. Before I knew it I had a whole group of family members, friends & complete strangers who helped to give me the strength & courage I needed to endure the battle of life. I have faced many other challenges since my birth, but it's with your help that I have continued to fight and overcome each new obstacle that comes my way. You have supported me, shown me love and patience and you have paved the way for my success. Thank you for impacting my life, including me in yours and being a part of my battalion.
One of the biggest blessings my parents had (besides me of course) was the outreach of the Down Syndrome Connection of Northwest Arkansas (DSCNWA). My parents had a million questions about my diagnosis when I was born and this group not only came by and visited, but provided us with resources and support where we needed it. With their help, and because of many of you, my parents didn't feel so alone and were able to tackle many of the things ahead of them.
There are a number of ways that you can be a part of "Brooks' Battalion" and provide support:
Walk with me in the Inclusion Walk on Saturday, October 13th at Arvest Ballpark  (Event 10 - 1 pm, Walk at 11:30 am)

​Run in the Respect Run 5K on Saturday, October 13th at Arvest Ballpark (8 am)

Make an online donation here to my team to support the Inclusion Walk and the DSCNWA

Contact my mom or dad to purchase a team t-shirt, all proceeds go to DSCNWA

Tell others about the Inclusion Walk and the great work of the DSCNWA organization
October is Down syndrome Awareness month. We hope that you will join us, celebrate the many wonderful qualities & gifts of people with Down syndrome, & walk with us. The Inclusion Walk is the main fundraiser for the Down Syndrome Connection of Northwest Arkansas. We are excited to see Brooks WALK again this year (who knows...he may run) and celebrate his strength!  No matter how you decide to support us, we want to thank you. DSCNWA has made a huge difference for our family & has provided us support in many ways. We hope to see you out there!  (Just be sure to register so we know you are coming!)
Thank you again for being a part of "Brooks' Battalion" & for your support, encouragement & love.
Much love and gratitude,
Brooks 
Register for the Inclusion Walk
CLICK HERE to register for the Inclusion Walk on October 13th and to join Brooks' Battalion.  Even though registration is FREE, registration is required to enjoy the complimentary lunch.  
Our Team Goal & Progress
We have raised $0.00 of our goal.