Sofia's Squad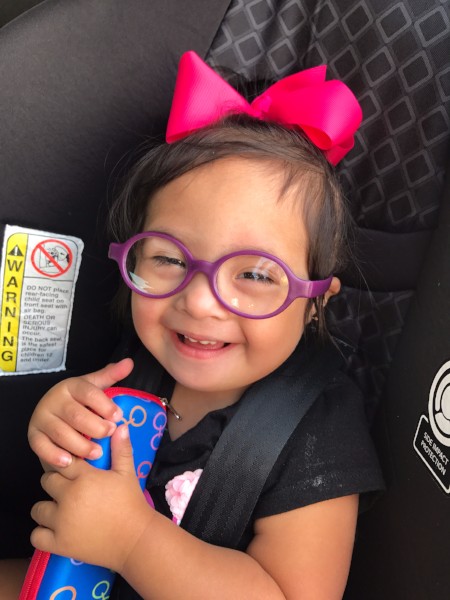 "The only difference between ordinary and extraordinary is that little EXTRA."
Hi my name is Sofia!  I am 2.5 years old. When I was born my parents were given the surprise that I was born with an extra chromosome. I recently started walking all by myself, even if my mommy says I have to hold her hand sometimes. I enjoy playing with my big sisters and taking all their toys out of the toy box without putting them back.  Dancing is my favorite! Especially Despacito.  I go to school everyday, at school I receive all my therapies, Physical, Occupational, and Speech therapies. 
You are invited to join us for our annual Inclusion Walk. The Inclusion Walk is our main fundraiser for Down Syndrome Connection of Northwest Arkansas. Nearly all of the money raised stays in NW Arkansas. DSCNWA is the local group that provides information and resource packets for education and awareness regarding Down syndrome.  The group also hosts social mixers and activities for people with Down syndrome and their families for fun and support and provides connections to financial and medical resources for assistance.  
The Inclusion Walk will be October 14 at Arvest Ballpark. 
Respect Run 5K - 8:00 a.m.
Kids Fun Run - 9:00 a.m.
Family Festival - 10:00-11:30am
Inclusion Walk - 11:30 a.m.
Lunch - 12:00 p.m.
Register for the Inclusion Walk
CLICK HERE to register for the Inclusion Walk on October 14th and to join Sofia's Squad.  Even though registration is FREE, please register online before coming to the event.
Our Team Goal & Progress
We have raised $0.00 of our goal.
Donate to my team