Bradley's Bunch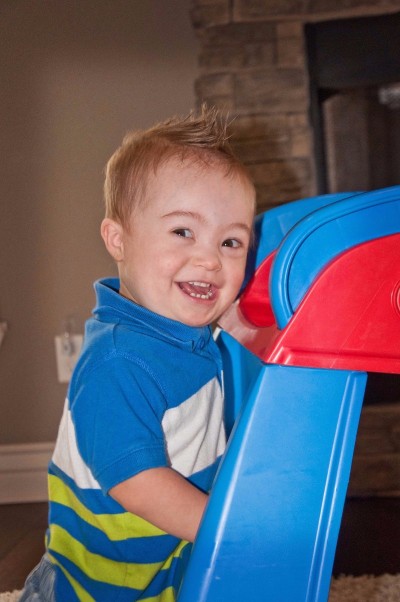 Bradley is our super sweet, cuddly, stubborn, spunky almost 2 year old.  He loves playing with and following his sister around even if it's right up the stairs and has perfected his speedy army crawl.  He's working hard everyday at walking and can with the help of mom and his walker.  He loves to throw things, especially a ball when someone will throw it back.  He loves to be outside, although not so much on the grass.  He has the biggest smile and the most contagious and easy laugh.  Bradley is a cuddly bear and loves to bury himself into you but will pull back every few minutes just to give you a smile.  He's always dancing to music and trying to sing and loves reading stories.  He knows a few ASL signs and is learning he gets extra ice cream if he signs "more" "please".  He can say mom and dad and his sister's name but even with limited words- it's clear to everyone on the block when mom and dad are feeding him something he does not want or if he wants more of something fun.
Bradley was born very early one morning and we didn't know he had Down syndrome until later that evening.  It was a big shock and we didn't even know where to start.  One of the biggest blessings we had was the outreach of the Down syndrome group (Sharing Down Syndrome) in Arizona.  We had a lot of questions about Down syndrome and got a heaven-sent visit and new parent packet filled with information and inspiring stories.   We were so happy to find the Down Syndrome Connection of NWA (DSCNWA) when we moved here a year and a half ago.  We have enjoyed the social and educational programs we've been to here and hope you will support this group so they can provide more things for events and support for the families here.  
Danielle recently joined the DSCNWA Board and is so passionate about growing this group here in NWA.  All funds raised go to DSCNWA and they use the funds for new parent baskets like the one we received, to provide educational and social activities throughout the year and to provide financial assistance for families in need.
We're asking you to donate to this great cause although the fun, lunch and family festival at the walk are all free.
There are a number of ways that you can be a part of "Team Bradley" and provide support:
Walk with me in the Inclusion Walk on Saturday, October 14th at Arvest Ballpark  (Event 10-1pm, Walk at 11:30 am)

​Run in the Respect Run 5K on Saturday, October 14th at Arvest Ballpark (8 am)

Make an online donation here to my team to support the Inclusion Walk and the DSCNWA

Tell others about the Inclusion Walk and the great work of the DSCNWA organization
October is Down syndrome Awareness month. We hope that you will join us, celebrate the many wonderful qualities and gifts of people with Down syndrome and walk with us. The Inclusion Walk is the main fundraiser for the Down Syndrome Connection of Northwest Arkansas.
Register for the Inclusion Walk
CLICK HERE to register for the Inclusion Walk on October 14th and to join Team Bradley.  Even though registration is FREE, please register online before coming to the event.
Our Team Goal & Progress
We have raised $2,981.00 of our goal.